Preparing Teacher Educators
The preparing teacher educators initiative will  transform the practices of PK-20 education by preparing doctoral students to become scholar-practitioners of teacher education, and creative leaders across their fields and institutions. We are guided by three orienting purposes.  These include supporting the learning of individual doctoral students interested in the work of teacher education, increasing campus capacity for supporting graduate students, and strengthening the broader field of teacher education.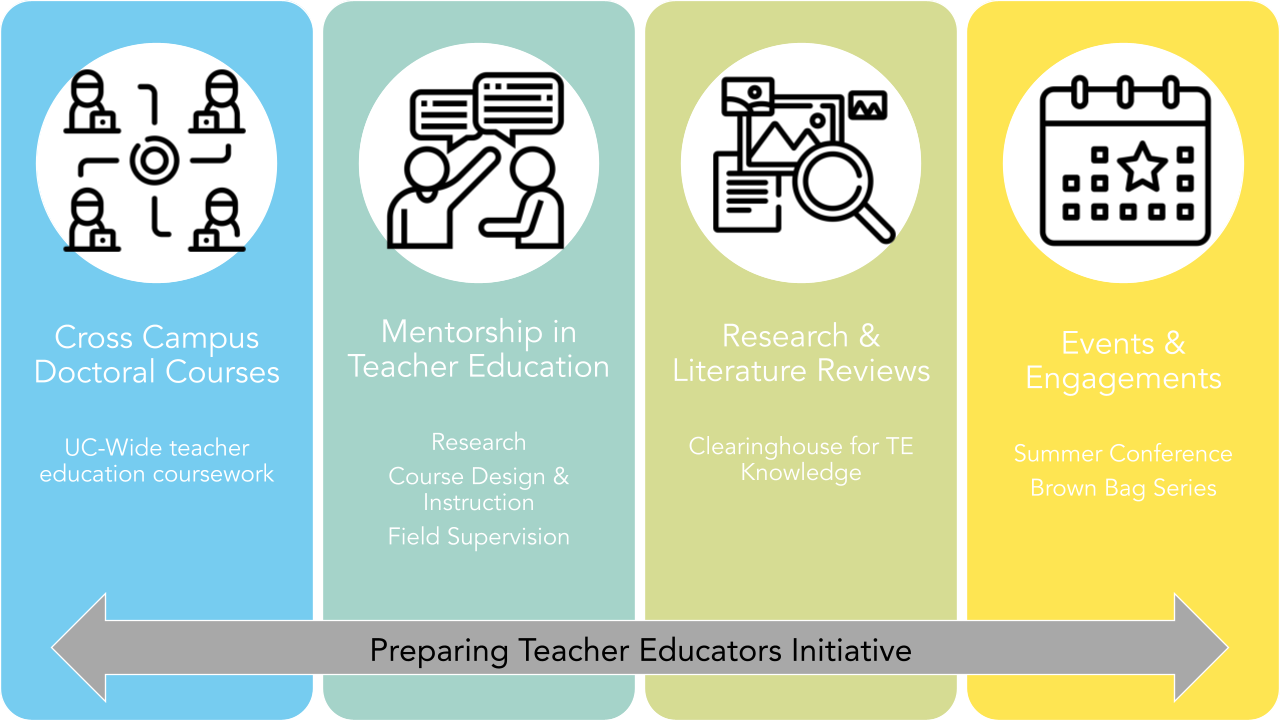 Image Credit: Freepik.com
Building a system-wide program to better prepare doctoral scholars for the work of teacher education.
Many graduates of Education Ph.D. programs are employed in teacher education, yet few underwent formalized preparation in methodologies and needs in teacher education research, and rarely did they have supervised training in how to teach, mentor, and supervise new P-12 teachers. The field is now calling for more purposeful preparation of teacher educators ... (the educators who teach teachers) to  understand and implement strong programs that will enable teachers to work in classrooms and communities with a wide range of ethnic, racial, linguistic and socioeconomic diversity. Teacher educators routinely teach upwards of a hundred or more new teachers each year, who then go on to teach thirty to over a hundred students each year. Improving the practice of teacher educators has remarkably far reaching implications. Yet, the preparation of UC doctoral candidates for the work of teacher education varies from campus to campus. UC faculty and programs offer rich resources across their campuses, resources that could be optimally harnessed in the system-wide preparation of those scholars. Towards this end, CTERIN is working with deans and faculty from across the nine campuses to convene and share best practice; design common courses and areas of study; co-teach courses and support cross-campus doctoral research teams; and work with California State Universities and independent universities to design "field placements" for UC doctoral students to "apprentice" in the work of teaching teachers.
---
A group of doctoral students/candidates across the nine UCs focus on transforming the practices of PK-20 education by contributing to and shaping the field of teacher education and practice, influencing program design and development, and interpreting and shaping policies as a means to change the current status quo especially related to justice, equity, and representation.
---
The UC is a vast educational system with a variety of experts in Teacher Education (TE). By utilizing faculty across the UC, we built a system-wide capacity via hybrid and virtual opportunities, so that any UC doctoral student interested in teacher education can participate in classes - from UC Merced to UCLA. Click here to read more about our UC-Wide teacher education coursework program. 
---
We focus on three areas of teacher education work that can be mentored: 1) research, 2) course design and instruction, and 3) field supervision.  We expect mentors to focus on one area of work for each mentee. Click here to read more about each of the three areas of mentorship and how to get involved.
---
Spring and summer 2022 will bring about opportunities to talk to ETE Fellows and learn about their work in Teacher Education.  Check back for specific dates for upcoming events with the ETE Fellow Program (brown bag lunches, Summer Conference 2022). 
---